Tile Flooring in Colorado Springs, CO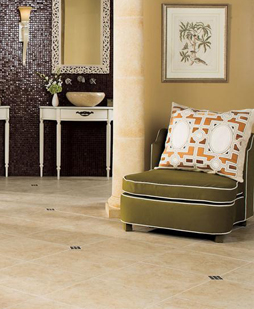 Transform the look of your home. Your flooring is one of the biggest contributors to any interior design scheme. Curating an enviable look and unique feel in your living space is easy when you visit Absolute Flooring America for beautiful tile flooring in Colorado Springs, CO. One visit to our expansive flooring showroom is all it takes to find an excellent flooring choice that will breathe new life into your space.
You don't have to settle for the same old style in your home. If you're tired of looking at outdated flooring in your bathroom, kitchen, or another indoor space, consider updating it with one of our stunning tile selections. No matter what look you wish to achieve, you'll surely find an exceptional floor that speaks to your unique tastes and preferences.
Offering a Wide Variety of Tile Floors
At our fully stocked showroom, we proudly carry a vast array of tile floors that are remarkably appealing and exceptionally durable. Our impressive selections include:
Ceramic Tile
Porcelain Tile
Slate Tile
With our inventory of quality tile from some of the industry's leading names, you'll have no trouble finding high-quality flooring that aligns with your design visions. Visit our showroom to discover all of the choices that await you.


Choose Our Tile Flooring for Its Elegance and Resilience
Ceramic Tile
Renew your interior design with the unmatched elegance of our ceramic tile flooring. Many homeowners favor ceramic tile. It comes in a wide variety of colors and patterns, making it one of the most versatile materials available today. Finding the perfect choice to coordinate with your existing décor is simpler than you think when you browse our impressive selection of tile flooring options.
Porcelain Tile
If you're looking for a unique flooring choice that doesn't fade, scratch, or show signs of wear easily, our porcelain tile floors are sure to serve you well. Few alternative options outclass our gorgeous porcelain floors as they easily retain their unique appearance with regular cleaning and maintenance. These highly desirable selections are a great choice for homeowners looking to update nearly any area of the home, even those that experience heavy foot traffic.
Slate Tile
Slate tile is one of the most coveted options available today. Preferred by home and business owners alike, it offers a look and texture that few other choices can match. Composed of metamorphic stone formed from an amalgamation of various minerals, slate tiles can vary greatly from product to product. Whether your design visions call for ceramic, porcelain, or slate, you are sure to find an exceptional choice at a competitive price when you visit our expansive showroom.
Your Trusted Source for Tile Flooring Installation
If you're an ambitious handyman, you might be tempted to install your new tile flooring yourself. However, even the most skilled individuals run the risk of damaging their new floors inadvertently should they choose to tackle their flooring installation single-handedly. With any flooring project, leaving the installation to the professionals is always your best option.
No matter what your prospective installation entails, you can call on our team to provide you with top-notch workmanship and exceptional customer service at every turn. Trust our specialists to provide you with a stylish, new floor that you can be proud of for years to come.

Contact our flooring specialists for more information regarding our impressive selection of tile flooring products. We proudly serve customers in Colorado Springs, Monument, Black Forest, and Manitou Springs, Colorado, and the surrounding areas.